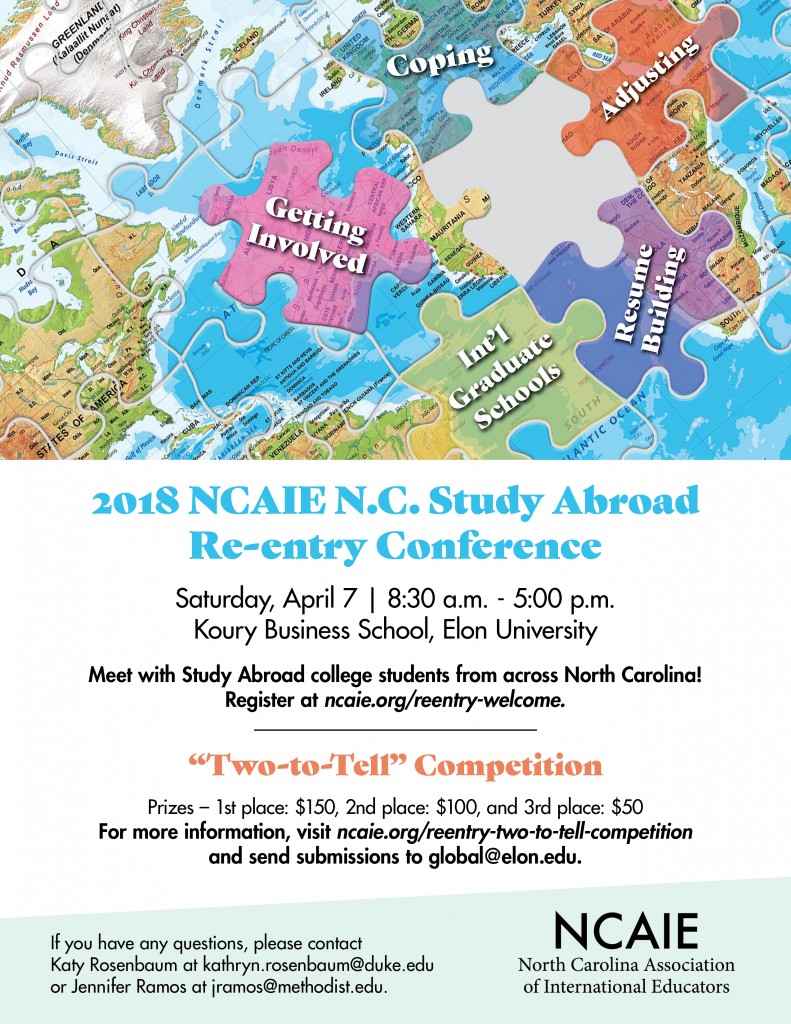 Date: Saturday, April 7, 2018
Time: 8:30-5:00
Location: Koury Business School | Elon University
Registration is now open: Register Now! 
About the Conference
The North Carolina Study Abroad Reentry Conference is designed to bring former study abroad students together from across North Carolina to share their experiences. Participants will also be able to share some of the common challenges and benefits that come from studying abroad. Sessions will focus on a range of topics from reverse culture shock, articulating the value of the experience, discovering intercultural skill enhancement, appropriately incorporating the experience into the job search, interviews, and resumes, international work and scholarship opportunities, getting into the field of international education, and many others.
What are your goals?
In our small group sessions, you'll get a chance to share your stories and hear from others. Then, with the help of trained intercultural facilitators, you'll be able to determine what kinds of opportunities you are most interested in pursuing.
Bring your business cards.
Breakfast, Lunch, and breaks in between sessions are the perfect opportunity to network and meet students and professionals with shared interests and ideals. Our expo will showcase various organizations geared towards students that have studied abroad and that are seeking ways to build on the transformative experience of studying abroad.
Where do I go from here?
Each afternoon session showcases opportunities to become immersed and engaged in a global experience. If you've never left the state or you're going abroad for the third time, you'll find something here.
Personal and professional development.
The afternoon workshops will give you the skills you'll need to write that cover letter or scholarship application, capture your experiences through a lens, or turn your passion for global engagement into a career.